Thoughtful Birthday Gift Ideas for Men That Make a Lasting Impression
This article delves into an array of considerate birthday gift concepts for men, ensuring a memorable impact that lingers.
Inspirasie
13 Aug, 2023 12:36 pm
Gift for him, gift for men, birthday gift ideas, anniversary
17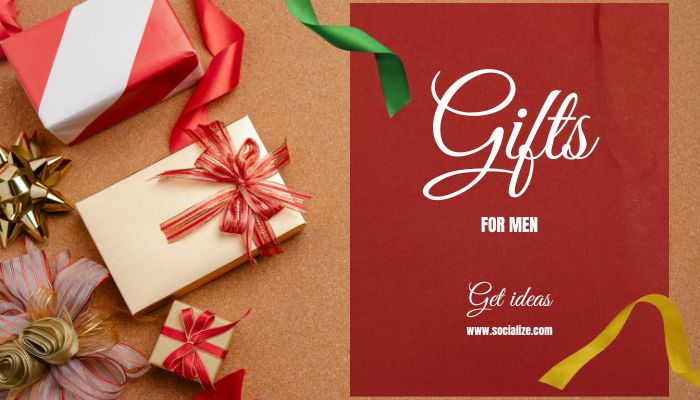 Finding the perfect birthday gift for men in your life can sometimes be a challenging task. However, with a little bit of thought and creativity, you can select a gift that not only reflects their personality and interests but also makes them feel truly appreciated. In this article, we'll explore a variety of thoughtful birthday gift ideas for men that are sure to leave a lasting impression.
1. Personalized Gifts
When it comes to celebrating a man's birthday, personalized gifts add a touch of uniqueness and thoughtfulness that make the occasion even more memorable. From engraved keepsakes to tailor-made accessories, these personalized gift ideas are sure to bring a smile to his face and warm his heart.
Engraved Leather Wallet: A classic yet timeless choice, an engraved leather wallet adds a personal touch to an everyday essential. You can have his initials or a meaningful date engraved on the wallet, making it a cherished item that he'll carry with him wherever he goes.
Customized Cufflinks: For the sophisticated man, personalized cufflinks are an elegant gift option. Choose his initials, a special date, or even coordinates with sentimental significance to create a pair of cufflinks that elevates his formal attire.
Monogrammed Toiletry Bag: Help him travel in style with a monogrammed toiletry bag. This practical gift not only keeps his grooming essentials organized but also showcases his individuality with a personalized monogram.
Personalized Glassware: Raise a toast to his special day with personalized glassware. Whether it's a set of whiskey glasses, beer mugs, or wine glasses, having his name or a special message engraved on them adds a personal flair to his drinking experience.
Custom Photo Book: Compile cherished memories in a custom photo book. Fill it with snapshots from your shared experiences, trips, and meaningful moments to create a nostalgic gift that celebrates your bond.
Engraved Keychain: A small yet meaningful gesture, an engraved keychain can hold sentimental value. Choose a quote, his initials, or a significant date to make his keys a constant reminder of your thoughtfulness.
Personalized Watch Case: If he's a watch enthusiast, a personalized watch case is an excellent gift. With compartments to store his timepieces safely, you can also add his name or a special message to the case.
Custom Star Map: Capture the night sky as it appeared on a significant date, like his birthdate or the day you met, with a custom star map. This unique and heartfelt gift serves as a reminder of a specific moment in time.
Personalized Cutting Board: For the culinary aficionado, a personalized cutting board adds flair to his kitchen. Engrave his name, a witty quote, or a meaningful message to make cooking even more enjoyable.
Handwritten Letter or Note: Sometimes, the simplest and most heartfelt gesture is writing a personalized letter or note. Express your feelings, recount fond memories, and let him know how much he means to you.
2. Experience Gifts
Rather than giving a physical item, consider gifting an experience. This could be anything from tickets to a sports game, a concert, a cooking class, or even an adventure activity like skydiving. Experience gifts create lasting memories that the recipient will cherish for years to come.
Adventure Activities: For the adventurous soul, gift him an adrenaline-pumping experience like skydiving, bungee jumping, or hot air ballooning. These heart-pounding adventures create memories he'll treasure forever.
Culinary Delights: If he's a foodie, a gourmet cooking class, a wine tasting tour, or a reservation at a renowned restaurant can provide a delectable and educational experience.
Concert or Event Tickets: Surprise him with tickets to his favorite band's concert, a live sports game, or a theater performance. Sharing these experiences together adds an extra layer of enjoyment.
Spa Retreat or Wellness Day: Pamper him with a spa day or a wellness retreat. Massages, facials, and relaxation sessions offer a chance to unwind and recharge.
Outdoor Adventures: Gift him a guided hiking trip, a kayaking expedition, or a camping weekend in the great outdoors. These experiences allow him to connect with nature and create cherished memories.
Art or Craft Workshops: If he's creatively inclined, consider enrolling him in an art or craft workshop. Whether it's painting, pottery, or woodworking, he'll appreciate the chance to learn a new skill.
Flying Lessons: For the aviation enthusiast, flying lessons offer an exhilarating experience. Guided by a professional pilot, he can take the controls and soar through the skies.
Hot Air Balloon Ride: A hot air balloon ride provides a breathtaking view from above. The serene journey offers a unique perspective and a memorable way to celebrate.
Outdoor Yoga or Meditation Retreat: If he values mindfulness and tranquility, an outdoor yoga or meditation retreat can be the perfect gift. These experiences promote relaxation and self-discovery.
Supercar Driving Experience: For the car enthusiast, a supercar driving experience allows him to get behind the wheel of a high-performance vehicle and feel the thrill of speed.
Escape Room Adventure: Challenge his problem-solving skills with an escape room adventure. Working together to solve puzzles and unlock clues can be a fun and engaging experience.
Historical or Cultural Tours: Immerse him in the local culture with a guided historical tour, museum visit, or architectural exploration. These experiences offer insight into the region's heritage.
3. High-Quality Accessories
Men often appreciate practical gifts that enhance their daily lives. A stylish watch, a premium tie or bowtie, or a set of elegant grooming products can make for excellent birthday presents. These accessories not only add to their style but also serve a functional purpose.
Stylish Watch: A sophisticated watch is a timeless accessory that can instantly elevate any outfit. Opt for a classic leather band or a sleek metal bracelet, depending on his personal style.
Premium Tie or Bowtie: For formal occasions, a high-quality silk tie or bowtie adds a touch of elegance. Choose a design that complements his taste and wardrobe.
Luxury Leather Belt: A well-crafted leather belt not only holds up his pants but also adds a touch of refinement to his attire. Look for a versatile design that can be dressed up or down.
Designer Wallet: Upgrade his wallet with a designer option made from premium materials. A sleek leather wallet with ample card slots and a coin pocket combines functionality with style.
Classic Cufflinks: Cufflinks are a symbol of sophistication and attention to detail. Opt for a pair made from precious metals or adorned with gemstones for a touch of luxury.
Fine Leather Briefcase or Messenger Bag: If he's a professional on the go, a fine leather briefcase or messenger bag is a practical and stylish gift. Choose a design that accommodates his work essentials with finesse.
High-Quality Sunglasses: A pair of premium sunglasses not only protect his eyes but also elevate his look. Opt for a timeless design that suits his face shape.
Elegant Tie Clip or Pin: A tie clip or pin adds a refined touch to his necktie while keeping it in place. Look for one with subtle detailing or a personalized engraving.
Sophisticated Pocket Square: A pocket square adds a pop of color and flair to his suit or blazer. Choose a design that complements his outfit while showcasing his personality.
Fine Writing Instruments: A luxurious pen or a set of fine writing instruments makes for a sophisticated gift, especially if he's a professional or enjoys journaling.
Classic Leather Gloves: For the colder months, a pair of well-crafted leather gloves not only keeps his hands warm but also adds a touch of refinement to his winter wardrobe.
Timeless Tie Bar: A tie bar is a subtle accessory that adds a polished touch to his necktie. Opt for a sleek and minimalistic design that enhances his overall look.
4. Tech Gadgets
For the tech-savvy men, consider the latest gadgets. Whether it's a smart speaker, wireless headphones, or a sleek phone case, tech gifts cater to their interests while keeping them up-to-date with the latest trends in the digital world.
Wireless Noise-Canceling Headphones: Allow him to immerse himself in his favorite tunes without distractions. Wireless noise-canceling headphones offer premium sound quality and a serene listening experience.
Smart Speaker with Voice Assistant: A smart speaker like Amazon Echo or Google Nest can play music, answer questions, control smart home devices, and more with simple voice commands.
Wireless Charging Pad: Simplify his charging routine with a wireless charging pad that works with his smartphone and other compatible devices. No more tangled cords!
Smartwatch with Health Tracking: A feature-rich smartwatch not only keeps him connected but also monitors his health and fitness, making it an excellent gift for someone who values both tech and wellness.
Portable Bluetooth Speaker: A portable Bluetooth speaker lets him enjoy his favorite music wherever he goes, whether it's a picnic, beach outing, or a relaxing evening at home.
Virtual Reality Headset: Take him on immersive journeys with a virtual reality headset. Whether he's into gaming or exploring virtual worlds, this gift offers a whole new level of entertainment.
Fitness Tracker: Help him achieve his fitness goals with a high-tech fitness tracker that monitors his activity levels, heart rate, and sleep quality.
Wireless Earbuds: Wireless earbuds provide a tangle-free listening experience. Look for features like active noise cancellation and long battery life.
Streaming Device: Enhance his entertainment options with a streaming device like a Roku, Apple TV, or Amazon Fire Stick, allowing him to access a variety of streaming services on his TV.
Smartphone Camera Lens Attachments: If he's into photography, consider smartphone camera lens attachments that enhance the quality of his smartphone photos.
Portable Power Bank: A portable power bank ensures his devices stay charged on the go. Look for models with high capacity and fast charging capabilities.
Home Security Camera System: For added peace of mind, a home security camera system lets him monitor his property remotely and receive notifications of any unusual activity.
`Smart Thermostat: A smart thermostat allows him to control his home's temperature remotely and save energy through personalized temperature settings.
5. Books and Subscriptions
If the birthday guy loves to read, a carefully selected book in a genre he enjoys can be a wonderful gift. You can also opt for a subscription service, whether it's a magazine related to his hobbies, a streaming service, or even a gourmet food box delivered monthly.
6. Hobby-Related Gifts
Consider his hobbies and interests when selecting a gift. If he's into cooking, a set of high-quality knives or a cooking class could be ideal. For a music lover, concert tickets or a vinyl record collection might be the perfect choice. Choosing a hobby-related gift shows that you understand and support his passions. Whether he's an outdoor adventurer, a music lover, or a cooking enthusiast, catering to his hobbies with thoughtful gifts will make his birthday celebration truly meaningful.
7. Wellness and Self-Care Gifts
Men deserve pampering too. Consider giving him a spa day, a grooming kit with premium skincare products, or a subscription to a meditation app. These gifts show that you care about his well-being and want him to take time for himself.
Spa Day or Massage Gift Certificate: Treat him to a day of relaxation with a spa day or a massage gift certificate. This is an opportunity for him to unwind, release tension, and enjoy some much-needed pampering.
Aromatherapy Diffuser and Essential Oils: An aromatherapy diffuser and a set of essential oils can create a calming and soothing environment at home. Essential oils like lavender, chamomile, and eucalyptus promote relaxation and stress relief.
Grooming and Skincare Kit: Gift him a high-quality grooming and skincare set that includes products like facial cleansers, moisturizers, and grooming tools. Taking care of his skin can be a self-care ritual he'll enjoy.
Meditation and Mindfulness Resources: Provide resources for him to explore meditation and mindfulness, such as a guided meditation app, a subscription to a mindfulness magazine, or a book on mindfulness practices.
Yoga Mat and Accessories: If he's into yoga or wants to start practicing, a comfortable yoga mat and accessories like blocks and straps can help him create a tranquil space for physical and mental well-being.
Personalized Journal or Gratitude Diary: Encourage reflection and self-expression with a personalized journal or a gratitude diary. This gift promotes mindfulness and self-awareness.
Herbal Tea Sampler Set: A selection of soothing herbal teas can offer relaxation and comfort. Choose blends known for their calming properties, such as chamomile, peppermint, and lavender.
Guided Relaxation or Sleep Aid Devices: Gift him a device that offers guided relaxation sessions, white noise, or sleep aids. These tools can assist in winding down and achieving a restful night's sleep.
Exercise Equipment for Home Workouts: Support his physical well-being with exercise equipment like resistance bands, a yoga mat, or a set of dumbbells for at-home workouts.
Adult Coloring Books and Art Supplies: Adult coloring books and art supplies offer a creative outlet for relaxation and stress reduction. Coloring intricate designs can be a meditative activity.
Herbal Bath Soaks and Bath Bombs: Treat him to a luxurious bath experience with herbal bath soaks or bath bombs infused with soothing scents and natural ingredients.
Comfortable Loungewear or Pajama Set: Comfortable clothing is essential for relaxation. Choose a cozy loungewear set or a soft pajama set for his comfort.
8. Outdoor Adventure Gear
If he enjoys spending time outdoors, gear like a camping hammock, a portable grill, or a hiking backpack can be great gift options. These items encourage him to explore nature and embark on new adventures.
Conclusion
Choosing a birthday or anniversary gift for men in your life doesn't have to be a daunting task. By considering their interests, hobbies, and preferences, you can select a gift that speaks to their personality and makes them feel valued. Whether it's a personalized keepsake, an exciting experience, or a practical accessory, your thoughtful gesture will undoubtedly leave a lasting impression and make their birthday truly special.