The Rules and Benefits of Instagram Product Tags
The Rules and Benefits of Instagram Product Tags
In this article, we'll go over the Rules and benefits of using Instagram Product Tags. We'll also discuss the cost and insights that shopping partners provide. This way, you'll be able to make the most of this new feature.
Amit Khare
31 May, 2023 5:47 pm
instagram, product tag, shopping, partner
29
In this article, we'll go over the Rules and benefits of using Instagram Product Tags. We'll also discuss the cost and insights that shopping partners provide. This way, you'll be able to make the most of this new feature. Using Instagram Product Tags is an easy way to get more exposure for your products and increase engagement with them. But before you start posting product images, it's important to understand what's involved in tagging products.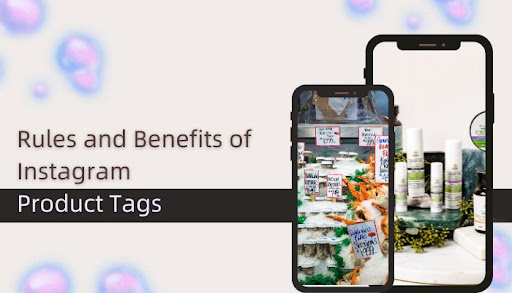 Benefits of tagging products on Instagram
Product tagging on Instagram has a number of benefits. It gives influencers more opportunities to promote brands by making it easy for followers to buy products. Product tagging allows business owners to link to their e-commerce site and allow followers to purchase directly from the Instagram page. Users will then be reminded of the product whenever they visit the wishlist. In addition, users can earn from affiliate programs and save their favorite products to their wishlists.
A good example of a product tag on Instagram is the one on a red lip. In this example, the Nars product tag stands out against the red lip. By combining product tagging on Instagram with user-generated content, Nars is able to increase their brand awareness. The brand has also used hashtag campaigns to get users to post their purchases and tag products within reposted UGC. These tactics have proven to be effective.
Another benefit of tagging products on Instagram is that you can use a shopping catalog. Whenever you post a picture, users can instantly view the products available for purchase. This makes it easy for customers to browse and buy your products. It also reduces the hassle of searching for the product themselves. In this way, Instagram can help your business increase its sales. In addition, Instagram users can discover new brands and products by browsing the product catalog.
Using tagging features on Instagram can drive sales and website traffic. Magnolia Boutique and Natori both experienced a significant increase in traffic. When users click on the tagged product, it links back to your shop's website. Customers can then purchase the product right from Instagram. With the new shoppable feature, Instagram users can easily make a purchase without leaving the photo. The new feature has also made Instagram even more appealing to professional shills and regular Instagram users.
Rules for tagging products on Instagram
There are a few rules about tagging products on Instagram. For one, it's not recommended to link to another website in the product description. Also, Instagram doesn't like product descriptions that don't match the actual image. Make sure your product details are correct if you want your products to show up in search results. Instagram may penalize your business if you use incorrect product information or tags, like the SKU or pricing. It may also deny your product tags.
In order to sell products on Instagram, you must have a Facebook page linked to your business account. This way, your products won't get delayed, even if they are not yet listed. And, because you don't own the product, Instagram may delay your product without prior approval. If you are wondering how to sell your products on Instagram, you can use Instagram Shopping. The rules for this are the same as those for tagging products on other social media platforms, but are slightly more strict.
Tagging products on Instagram is a great way to increase your followers and boost your brand's popularity. Just make sure you know the rules before you start posting. If you've posted a photo or video, you can add a shoppable sticker to it. That way, your followers will be able to buy your product right from the post. It's that easy! The best part? Instagram has over 300 million users!
Tagging products on Instagram requires review by Instagram. Once your product is approved, you'll receive a notification on your business profile. While this process might take a few days, it should not take you much time. In addition to these rules, make sure you are eligible to use product tagging on Instagram. You can find more information about tagging on Instagram here. So, start posting and make your product shoppable on Instagram.
Cost of tagging products on Instagram
When it comes to tagging products on Instagram, the cost will vary based on the number of products you have. If you sell only clothing, you'll probably want to limit your products to the smallest size and color ranges. In that case, you will need to have at least nine products to tag. However, if you have multiple shirts in different colors and sizes, that would be 24 products. So, it is better to plan your product uploads strategically and decide what products you'll upload.
Instagram has an audience of 1 billion users, making it a great platform for advertising, brand awareness, and growing an online business. Moreover, the platform has recently added many useful features to appeal to businesses, including product tagging. By tagging products, you will be able to reach a huge audience and increase your chances of selling more products. Here's how to tag products on Instagram:
Before you begin tagging products on Instagram, make sure to have an online catalog ready. Having a complete catalog is key. Once your customers find your products on Instagram, they can buy them right there. And once the process is done, Instagram will send you an email to confirm the purchase. In the meantime, you'll be well on your way to growing your business. And don't forget: tagging products on Instagram will change your business forever.
If you'd like to sell products through Instagram, you must first have a business profile. Once you have the account, you can post photos and captions. If you're selling clothing, you can add a description for each item in the catalog. If you're selling clothing, you can also add tags for other products that fit the theme of the photo. Make sure you update your product catalog frequently! It's also a good idea to include the price of the product before posting it. The price of a clothing item can vary dramatically depending on the style and brand.
Insights provided by shopping partners
With the addition of Instagram Shopping, you can identify and call attention to products, posts, and stories in the Explore tab. Using this insight will help you create and promote more creative content, as well as boost audience engagement and website traffic. In addition, you can create shoppable stories and posts that seamlessly blend with your users' feeds. To convert your followers into customers, you need to integrate these insights into your email marketing and CRM software.
The advantages of Shopping from Creators include: Making your organic posts more shoppable; tracking sales and engagement; and eliminating the need to create a separate account. Additionally, they handle all communications between the brand and customer. However, the downside is that you lose valuable customer data and have to pay a fee for the service. Shopping partners on Instagram product tags are not free. While you can find them online, you will have to pay a transaction fee for each purchase.
The benefits of Instagram Shopping are immense. If your followers have visited your Instagram page, they'll have seen the product tags. Now, when they search for the product they're interested in, they can click on the links provided by your partner. That way, more people will learn about your product and purchase it. With these insights, you'll be able to create better products, attract more followers, and increase sales.
Instagram Stories is so popular that advertisers have increased their marketing budget for the feature. Insights on Instagram Story shopping tags enable brands to track the effectiveness of their campaigns, and are a great way to drive more sales. To be able to use Instagram Shopping Tags on your Stories, your products must be approved for regular feed posts. Using tags on Instagram Stories allows people to click on them and learn more about the product. To ensure that you're getting the most out of your marketing campaigns, you can also track how many times a particular post has been viewed, how many people have clicked on it, and how often a person has tapped on it.
Insights provided by Instagram Checkout
Once you've set up your business account, you can use the analytics provided by Instagram checkout for your posts, stories, and profiles. This allows you to see how your posts and stories are performing across time. On the homepage of Instagram Insights, click "Insights Overview'' to see an overall view of your performance. If you'd like to see a more detailed view, you can select the date range to view the last seven days or even a month ago.
The new feature is still in beta, but it will soon be open to all businesses and partners, including Shopify, BigCommerce, ChannelAdvisor, and CommerceHub. Instagram Checkout will work with the payment processor Paypal to enable payment processing, and it is currently available to a few select creators and brands. For now, this new feature will only be available to US sellers. If you're an Instagram business owner, be sure to take advantage of this new feature while you can!
If you're interested in tracking the performance of your posts, you can use the analytics tools available in Instagram to see how your products perform in terms of sales and engagement. For example, you can track the number of people who viewed your product page or clicked the button to buy it. This will help you understand what your content strategy should look like to increase conversions. With this data in hand, you can make adjustments to your content to create an even more appealing product.
Using the analytics feature from Instagram to measure your marketing ROI is a great way to appeal to the Instagram Algorithm and attract new customers. This new feature also allows businesses to see conversion rates and determine ROI. By using Instagram checkout, your customers can complete their transaction with a few clicks, and you can see how well your products are performing. Insights provided by Instagram checkout for Instagram product tags.