Personalized Christmas Gifts and Ideas for the Whole Family
ScribbleMagicLab offers unique and original personalized gift ideas featuring your child's awesome drawings and artwork! Our artist in the Magic Lab turns children's artwork into gifts to create a variety of personalized decorations, gifts, and objects including kid-friendly clothes, Magic Mugs, cell phone, and iPad accessories, home or office decor and more with your child's drawing as the star!
bruno
08 Jan, 2019 4:19 pm
personalized gifts
184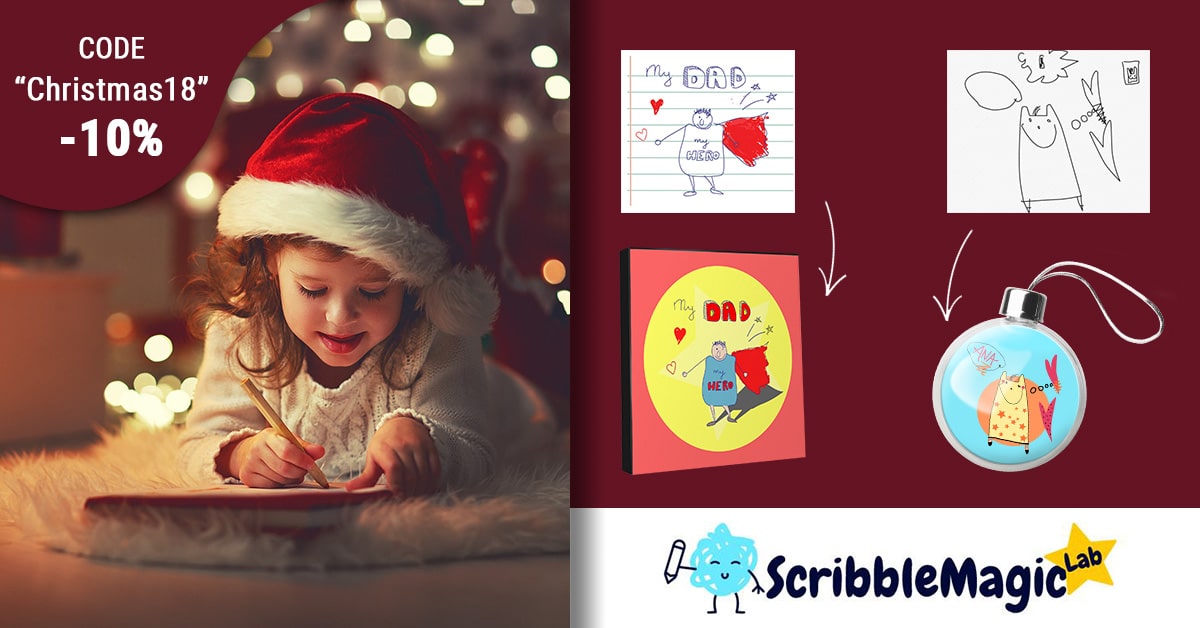 Personalized Christmas Gifts and Ideas for the Whole Family
If you want to buy a gift this holiday season which is unique, and everyone will love, then have we got an idea for you.
There is an artist inside of every child. With an imagination that soars to the highest of creative heights, you never know what you'll find when you give a child some paper and coloring tools.
Instead of hanging that picture on the wall, why not create something incredible with it? This Christmas, you can give your child a tangible item which features their favorite artwork items. Just scan in their art or take a picture of it with your mobile device.
After uploading the image to our site, one of our designers will transform the artwork to highlight all the best attributes. After your approval, we'll produce the finished artwork on your desired object, creating personalized Christmas gifts which are sure to be loved.
How to Encourage the Artist Within
Drawing is a wonderful way to practice a child's fine motor development skills. Many children eventually make it to the art world on their own time when they are ready.
Some children may need a little encouragement to embrace the artist within. Here are some ways you could help them embrace this creative energy.
Make it a whole-body experience.
Take a large roll of paper, and then have your child draw the biggest picture possible on the floor. You could even make the people in this image be life-sized. Kids love to create when there's a lot of whole-body wiggling involved!
Then step back to get the entire image into focus before taking a picture of it. You can even edit for clarity before uploading the design to make your Christmas present gifts become a much-loved item.
Encourage the process more than the end result.
Children are also secret perfectionists. It may not seem that way when they're covered in dirt, or their room is a mess, but it is an undeniable truth. Many children avoid artwork because they are dissatisfied with the result.
By encouraging the process of art, then placing their finished work on an item they love, you will help them get over this obstacle because they will start thinking of themselves as an artist.
Find meaningful reasons to draw.
Your child's artwork can be turned into Christmas gifts for the entire family. Once the final proof is authorized, we can place it on mugs, coasters, aprons, candy tins, and many more items. It can become the foundation of your new décor, including candles, bedsheets, and Christmas ornaments.
We offer several lifestyle options as well, including backpacks, luggage, and laptop covers.
Try using different drawing tools.
If markers are boring for your little artist, then try using white pencils on black paper instead. Water pencils are a fun way to draw, and then paint an image. Wet chalk is interesting because it is messy and colorful. Soft chalk pastels, oil pastels, colored pencils, and even black fine liners are all potential ways for your child to embrace the artist within.
Draw on different mediums.
If you have an artist who is still reluctant, then try drawing on something unusual first. You could create a picture on a balloon. Graph paper can teach children the dynamics of artwork and spacing. You could draw with water and a paintbrush on concrete.
As long as your child can focus their creative energies into what they draw without interference, many find the experience of creating something new to be a special activity. Then you can buy a gift which will be remembered for years to come.
Create art for an entire event.
Personalized artwork is the perfect foundation for Christmas event ideas too. Gather up a few of your closest friends, make some art together, and then everyone will have an ideal gift to give over the holidays.
Which Christmas Gifts Will You Give This Season?
If you're looking for clever personalized Christmas gifts this year, then this idea opens a world of possibilities. Not only is your child's finished work the perfect present for them, but you'll also have gifts for the entire family that will be treasured.
The artwork of a child is intensely personal. It reflects tangible elements of their imagination that they'd like to bring to life. This Christmas, you can buy a gift that will do just that. Upload a picture or scanned image of your child's artwork to start the creation process today.