Why is ID Card Scanner App Better Than Manual Typing In Banks?
Why is ID Card Scanner App Better Than Manual Typing In Banks?
A significant chunk of banking operations are paper intensive. An ID card scanner app when driven by the OCR technology accurately extract the text from machine-readable zone of documents that eliminates the need to type the text manually.
Richa
31 Oct, 2018 5:23 pm
ID Card Scanner App, ID Card Scanning App
198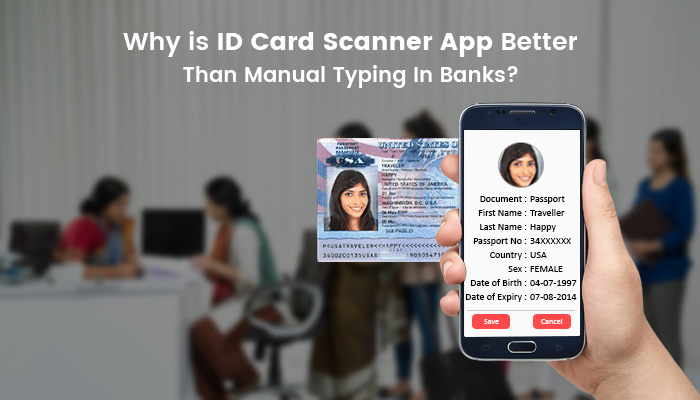 Long live the mobile application technology! Although we know that nothing is constant but change and that future might bring forth better inventions, yet the present can be lived to the fullest with the best technology we have in hand for a seamless life. Apps have become the life-blood of our daily activities whether be professional or personal.

One such type of app that has brought about a remarkable change in the banking sector is the document or ID card scanner app. These OCR scanner apps are used to scan documents to achieve a digital format of the essential information from the hard copies. The process involves capturing the document image by the mobile camera and extraction of the printed details for saving in the cloud server of the application or to any other reserved space.

Much of bank work is paper intensive or manual. This involves data entry, record maintenance, form fill-ups and so on. Manual work is always time consuming and prone to error. The conversion of the paper-driven work to electronic content management (ECM) by scanning can be daunting as there are a myriad of options available, all of which might seem to work well with the financial institution in question. But any one document scanning app would be specifically suitable for its needs and it is advisable to keep few factors in mind while deciding it, like security, ease of use, reliability, features and efficiency.

Now the question is, how have these apps proved more beneficial than manual work in banks?
'Time is Money'
It is said, 'Time is Money', meaning that time is directly proportional to productivity. The more time you invest in unproductive work, the thinner becomes the profit margin. Banking (pun intended) on these scanner apps can save a lot of time. It speeds up the entire process of documentation. With just a tap on the mobile phone, the document in question gets scanned within few seconds.

'To Err is Human'
To err is human goes the old adage. Manual typing or data entry is subject to unpredictable errors which is not only frustrating for you but also for your customers. A lot of time is wasted in correcting the mistakes which hampers productivity and also creates a negative impression on the customers, whereas a document scanner app has no such possibilities. Exact details are extracted from the documents and saved in machine-readable format.

The OCR technology is adept at reading cheques as well. Apart from the name, account number, amount and other details, it can read the signatures too. This curbs the risk of mistyping cheque details by the employees. Bank of America was the first bank to introduce OCR technology for its scanning solutions.

'Better Safe Than Sorry'
There is no guarantee about the safe upkeep of papers and documents in a paper loaded ambiance like that of a bank. Important documents go missing often and a lot of time is invested in the unproductive work of finding them. If all data is aggregated in a repository, it will streamline the bank operations efficiently.
Moreover, employee details can also be stored in a repository, bidding goodbye to unmanageable work patterns and welcoming a paper saving initiative. Apart from loss of documents or elimination of oversight chances, an ID card scanner app also ensures security of the sensitive data. When stored in a computer or a server, there are no loopholes for unauthorized access to the information. The in-house software or EDM system can be programmed with a password for retrieval of the desired data.
'A place for everything and everything in its place'
Modern time's people believe in minimalism whether it be in personal or professional life. Sleek gadgets, tiny storage equipment, compact devices, etc. are more in demand. Operating a huge traditional scanner or even worse the manual work are bygone practices. The above proverb means that there is a place for storing everything and when not in use it should return to its specific place. The confidential and sensitive data of banks deserve a safeguarded reserve. Desks and shelves, files and registers are not the place for it. The introduction of an ID card scanner app will put everything in its right place. It will de-clutter desks and other paper, files, register occupied places to make more space available for productive work. If less space can accommodate a bank setup, more can be saved for the rent of a bigger space.
These document scanning apps have changed the way banks function of late. The customers get better experience, the employees more satisfaction and the bankers more profit.